Students and feminists gathered at Boston University's Barnes and Noble on Oct. 30 to participate in the book signing of "How To Win at Feminism! with The Reductress," an event that celebrated the power of women.
The authors, Sarah Pappalardo and Beth Newell, are also writers of Reductress, a satirical women's magazine. It provides a fresh take on women's rights through the lens of some of the funniest women in comedy. They wanted to write a manual on how to be a feminist from the point of view of a well-intentioned but ill-informed women's magazine.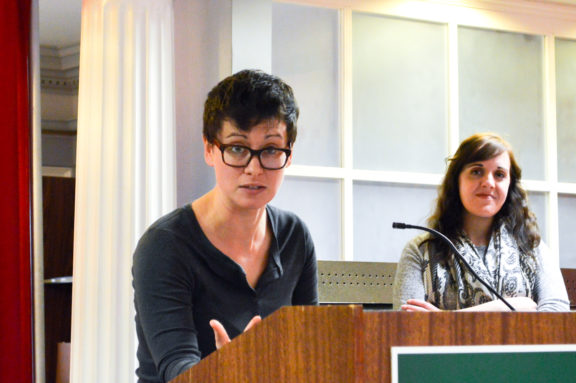 The book is divided into sections – "How-to Feminist," "The Look of a Feminist," and "Love and Sex" – each meant to teach readers different ways to be a feminist. It presents lessons such as learning to love oneself before starting to date and choosing between the "chill dude" who does not talk about feminism and the "male feminist" who yells his progressive opinions and works for women's rights.
While BU students can minor in Women's Gender and Sexuality studies, those that want less of an academic approach to what is and isn't feminist can read the lists assembled by Pappalardo and Newell, including the difference between painting nails "for him" versus painting nails "for you." They believed that through these examples, a person can measure if they are feminists and their views on feminism.
Beyoncé, of course, was name-dropped as the starter of feminism in 2013, and that there have been many waves of feminism.
Each era had their own style and attitude, and every woman had a different idea of what feminism meant to them.
The women movement made major strides in the era from 2009-2013, but many issues were left unresolved such as, "can women play video games?" In 2014, women took back the morning by embracing the fact that they "woke up like this," meaning they started the day beautiful.  The current 2015-2016 wave is named "Yazz queen." Started by a drag queen, this is an affirmative phrase that set the stage for the next big wave of feminism.
Beyond how-tos and lists, the book includes satirical products that make women stronger, such as "Vagilante," an anti-rape multi-tool including a variety of mace. Though sexual assaults on college campuses may be something that hits a little close to home, this was one of the many tidbits that prompted laughs from the audience, and more than half of the room raised their hands when asked if they were feminists.
Finally, the authors presented their take on the patriarchy, comparing it to a "spooky ghost" that contradicts itself. They mentioned that some men aren't aware of the patriarchy, so women have to trust their "sixth sense." According to Pappalardo and Newell, the only way to end the patriarchy is to acknowledge its presence and confront it.
Newell said the urge to confront the patriarchy came from the inaccurate usage of "feminism."
"A lot of media at the time was using feminism as a label and not as a set of goals or ideals," Newell said. To combat this, Pappalardo and Newell set out to write the book in three months, then spent another three to four months compiling the artwork and photography.
"This [compilation]  was surprisingly the most difficult but rewarding part of putting this all together," Pappalardo said.
Pappalardo and Newell hope the two end products, "How to Win at Feminism," meant for enjoyment on someone's coffee table, and "The Reductress," a more topical book, will draw in more readers, specifically ones that enjoy jokes on feminism.