In my review of Sleater-Kinney's triumphant reunion album "No Cities to Love," I mentioned that I wasn't worried about it. I wasn't worried that it would be a bad or mediocre album. I didn't get the feeling that I get whenever, say, The Smashing Pumpkins gear up for a new release. Sleater-Kinney is too talented to make a bad album, they're just too good at what they do. With "No Cities to Love," I expected Sleater-Kinney to pick up where they left off. That's exactly what they did.
I felt the same way when, back in the fall, I bought my ticket to see them play at the House of Blues. I expected — knew, really — that Sleater-Kinney would put on one hell of a live show.
On Sunday night, Sleater-Kinney ripped through 23 songs with barely a break. They talked a little bit–Carrie Brownstein cheekily said "this song is about Boston!" before the band kicked into "No Cities to Love"–but, mostly, they stayed quiet. Which was fine by me. When a group that's probably the best rock band of the last two decades is on stage, you want to hear them play.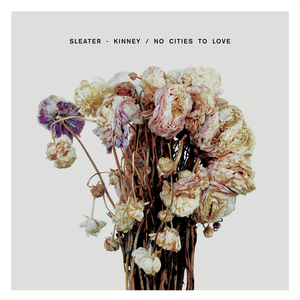 And they can goddamn play. Janet Weiss is an incredible drummer. Given that Sleater-Kinney is a band without a bassist, she's got the task of both keeping the band in time and providing a low-end. She does this job with thundering aplomb, without–pun not intended, I swear–missing a beat. Brownstein and Corin Tucker, on the other hand, are doing the exact opposite. While Weiss keeps everything grounded, they're busy playing dueling, floaty, snakey and frankly, hard to describe guitar leads. It's a truly astounding thing to hear live, whether it's the complex divebomb of "A New Wave" or the simpler chords of "Dig Me Out."
And then, of course, there's Corin Tucker. Look, I love Carrie Brownstein's voice. It's talky and kinda playful and sardonic and it's awesome for any number of reasons. But Corin Tucker possesses a voice that's otherworldly. Sitting somewhere between "yell" and "really, really loud yell," Tucker attacks every song as if it's the last song she's ever gonna sing. Hearing her ramp up her voice during "Price Tag" and her ferocious performance of "No Anthems" was simply unforgettable. I don't want to sit here and just write superlative after superlative, but seriously: Tucker's voice is astounding.
Set wise, the band was heavy on "No Cities." They hit most of the best tracks from that album: the aforementioned "Price Tag," "No Anthems," "No Cities to Love," and "A New Wave," as well as "Surface Envy" and lead single "Bury Our Friends." I would have liked to have heard more from "Dig Me Out," maybe, but I'm just nitpicking at this point. This was a great performance from one of the best bands of our generation, and it's a tour you should go out of your way to see.