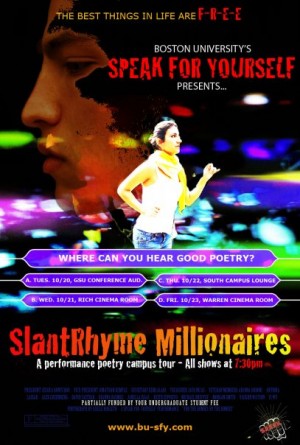 Speak For Yourself, BU's slam poetry group, commenced a BU tour on Tuesday, October 20th. Starting in the GSU Auditorium, they plan to preform at the South Campus Lounge on Wednesday , October 21, and Rich Hall on Thursday, October, 22nd. All shows start at 7:30pm.
They got off to a rocky start on Tuesday, with many technically difficulties that some magical guy hidden behind a curtain attempted to fix. This was followed by a very bizarre opening: It required that everyone in the audience say the first thing that came to their minds when listening to a compilation of news clips off YouTube. It was awkward and chaotic, but that changed when they finally got to the poetry.
With wonderfully witty and brief introductions by Jack Nicas (COM '10), the speakers rocked the stage. Newcomers to the medium held their own next to returning performers, with amazing pieces that seriously slap you in the face. There was some shakiness and some random blips of rap music blaring through some poems, but all and all, it looks like it will be a promising year for the group. I saw them last year at their final show and it was incredible. Hopefully (and surely) this year will be the same. There are some amazing voices out there at BU, let them be heard.
Check out their website for updates on shows. I recommend that everyone see them at least once. They speak the truth, the whole truth, and nothing but, and I look forward to seeing their progress later in the year.