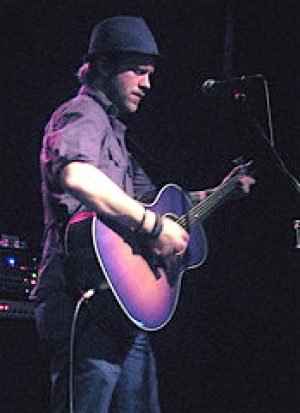 Holed up in his Birmingham, Alabama apartment, singer-songwriter Matthew Mayfield sits up sorting through lyrics and melodies at three in the morning, accompanied only by a guitar, his computer, and of course, whiskey.
Despite being an unsigned artist, Mayfield has an exceptionally wide range of fans. He recently played in one of the largest music American festivals, SXSW in Austin Texas, where he scored the number six spot list of the top ten artists with the fastest growing buzz at the festival on music analytics website Next Big Sound.
Since the break-up of his major-label band, Moses Mayfield, in December 2007, Mayfield has gone solo to self-release six EPs entitled The Fire,  Five Chances Remain Hers, Maybe Next Christmas, Better, Breathe Out In Black,  and most recently 2010's Man-Made Machines.
The musician told the Quad about his inspirations, challenges and his own twist on charity-giving in a phone interview.
Mayfield told me that his writing process is turning organic: "now it's just very in-house, it really is very homegrown…I like making records that way and I like trying new things… it's also a way to feed the core fans, the people that keep coming back and keep buying records and keep wanting to be a part of what I'm doing. Those are the people who I'm writing for and playing for."
Mayfield describes his biggest challenge in the creation of his latest EP: "With the songwriting, this time around, [it] was a challenge. Not in the sense of finding the melodies, it was more just like some of the subject matter was challenging and that personally can be difficult to dive into and pull from. It was a combination of that and getting the sounds that we wanted to get. I had a very specific idea of what I wanted things to sound like…I was a little nervous because I wasn't sure what it was gonna sound like or if we were gonna be able to pull it off. Then we started mixing and it came together. I was blown away. I was just super happy with the way it turned out."
Mayfield says his inspiration comes purely from his own life: "everything I write about is something I've been through to some degree…you sing about what you know about. I think the best songs come from that place where you're honest and it's heartfelt…it's always that sincerity that I feel like draws me in, hopefully that's what draws people in to what I'm doing, too."
Mayfield has recently teamed up with Pledge Music to give back to one of his favorite charities, International Justice Mission, while creating his next two EPs.
The International Justice Mission is a human rights agency that "secures justice for victims of slavery, sexual exploitation and other forms of violent oppression. The agency consists of lawyers, investigators, and aftercare professionals that "work with local governments to ensure victim rescue, to prosecute perpetrators, and strengthen the community and civic factors that promote functioning public justice systems." The agency works in 12 countries in Africa, Asia, and Latin American.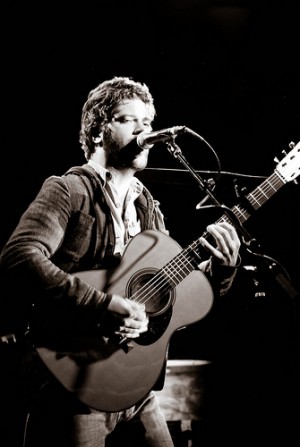 Mayfield has worked with IJM for nearly eight years, and says "It's a really bold, courageous thing that they're doing: giving a voice to the voiceless, and that spoke to me in a big way."
Not only will this revolutionary process give back to the global community, but also to Mayfield's fans. Depending on the amount of money you pledge, the site offers a variety of exclusive items and experiences ranging from the completed EPs to a Skype session with Mayfield, or even Mayfield as the entertainment at your next house party.
Among the less-expected items available is the Message in a whiskey bottle, which is handwritten lyrics rolled up into the empty bottle of the choice beverage Mayfield was drinking during the songwriting process.
Mayfield explains how that idea was born: "So, I was just writing one night and looking around at all the clutter, and paper, and whiskey, just all the stuff around me. So, I was like instead of this just being me in my living room at three in the morning, how can I let people get a little closer, and feel like we're doing this together, 'cause we are. I really want people to participate, not just to give money, but also to feel like they're a part of something that's special. I was kinda like, well, might as well roll that note up and put it in that bottle."
Check out Pledge Music to donate now.
Watch Mayfield's corresponding video podcast here.
Listen to all of Mayfield's uncut responses here.