The Dear Abbeys may not need an introduction. The all-male acapella group is well known on campus, to say the least; they routinely play to standing-room only audiences. Many a freshman girl has blushed the first time she watched this all-male group do their thing. In person, however, they're just a group of guys—hanging out, cracking jokes, and occasionally bursting out into perfect harmony. This weekend, they're teaming up with the Beezlebubs, an acapella group from Tufts, to perform their annual show, Men Being Manly. The Quad caught up with them before rehearsal to talk—on and off the record—about swords, songs, and swooning. 
The Quad: Where'd the name come from?
Jason Kaplan (COM '12): Back in February of 1992, there were an abundance of acapella groups on campus, but no all male groups. Gentlemen by the name of Cooper Olson, Bryan Reichelt, Jamie Kilpatrick got together, went to the Student Activity Office, and said, we want to form an all-male acapella group. So the woman gave them a form, and the first thing on the form was, "Name of the Group." They had not thought that far in advance. So they asked her what her name was, and her name was Abbey. So they named the group the "Dear Abbeys" after her. She wound up marrying Dean Elmore. So Dean Elmore's wife, Abbey Elmore, is actually who the group is named after.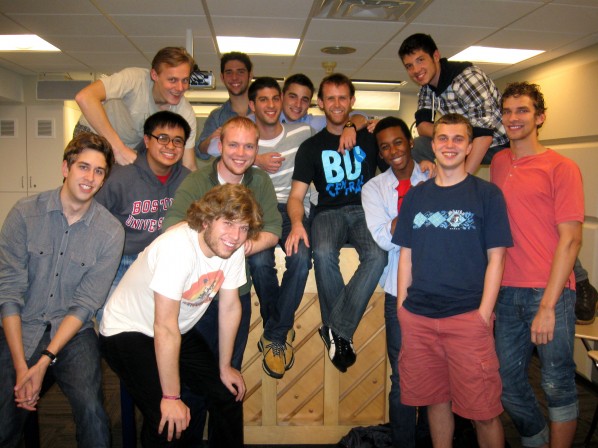 What has been the most valuable part  of being an Abbey?
Daniel Taylor (ENG '12): The most valuable experience—and I think I speak for a lot of us in this regard—is the relationships we build, the friendships. Obviously the music is amazing, and we enjoy it, but gelling as a group is really the most important, I think.
Your group is pretty famous for schnazzy performances. Is creating performances a collaborative process? 
Luke Socarno (CAS '13): It is a collaborative process. All the guys are great musicians, and they bring their different talents. It's my job [as a music director] to bring everyone together. We do all our own arrangments, run our own rehearsals.
It seems like you guys have a lot of traditions—the song you sing at the beginning of your shows, the Abe Lincoln head that shows up in all of your advertisements. Do you have other group traditions that don't get as much press?
Jesse Galkowski (COM '13): There is a large wooden sword that is handed down. One person is chosen as the sword bearer for the year, and its his duty to protect the group and fight off any orcs, gremlins, monsters.
It's a priority. Orcs are a serious threat. So, you guys definitely have a fan base on campus. Is there swooning involved in day to day life? 
Jason: I don't know if you want to call it a fan base, but there are definitely people who enjoy what we do. It's a dynamic relationship.
Luke: When we're walking down the street, there's not daily swooning. That's ridiculous. It is evident when we go to high schools [to perform]. There's something about older college guys that makes high school girls lose their minds.
What is your favorite song you have in the repertoire, and why?
Luke: S&M is fun, because we're just out there doing our thing.
Jason: People think it lies on us to enjoy the song that we do, but really it depends on the crowd as well. They probably have the most important role. If you come to a show with three people and then you come to a show like Men Being Manly, you can see the difference that we give onstage. It's a really rewarding experience to be in a room with people who are just so happy to hear what you're doing.
There it is. An interview with BU's own Dear Abbeys. Ladies (and gentlemen), if you want to swoon, we won't judge you. You can catch the Dear Abbeys and the Tufts Beezlebubs on Saturday, November 12, at 8 PM, in the Jacob Sleeper Auditorium. Tickets are $7 in the GSU Student Link tomorrow from 10 AM-3 PM and $10 at the door. Check out their Twitter and Facebook for more information.