The sitcom has never been a very exciting medium structurally. Humor has changed since the years of Cheers and Taxi, but generally speaking, sitcoms still all follow a general structure from which shows only occasionally deviate. Sitcoms (at least on broadcast TV) are designed to be a type of comfort food, a world in which people can get comfortable enough to come back to visit on a week-to-week basis.
Some comedies in recent years have shaken things up in terms of writing the sitcom. Curb Your Enthusiasm's run was literally groundbreaking in the world of TV comedy. A strategy of outlined scenes with improvised dialogue brought fresh and authentic comedic voices to the fore, and shows like The League on FX (a show that also features improvised dialogue) have followed in those footsteps.
Now running on NBC is another comedy with an improv-oriented writing approach: Best Friends Forever, from creators and stars Jessica St. Clair and Lennon Parham. Parham and St. Clair are graduates of the renowned improv programs at the Upright Citizens Brigade, a comedy troupe based out of New York that has launched the career of what seems to be every great comic actor out there (most notably Amy Poehler, who co-founded the theater).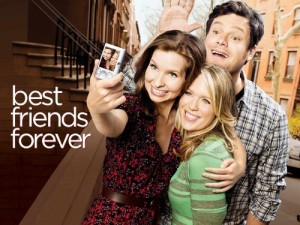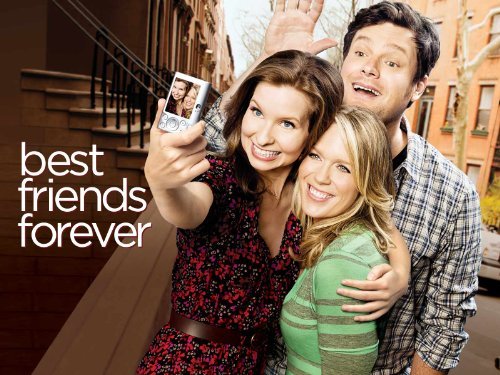 Best Friends Forever, like Curb and The League, has improv in its DNA. In an interview with the Huffington Post, Parham and St. Clair explain that the two tape-record themselves improvising scenes and then transcribe the recordings by hand. They pick out their best takes and compile them into what will eventually become an episode script. Though Best Friends Forever does have a writing team to help break stories and edit the scripts, Parham and St. Clair basically fuel everything with improv.
The pilot episode, much like any improv show, has its ups and downs. Jessica and Lennon's chemistry is undeniable. There's an ease to their friendship that is hard to find among the female relationships on network TV. Their rapport is fast-paced and very funny. The only thing that seems to be holding the comedy back on BFF is traditional sitcom structure. Because this is a network show, the story goes through the motions of very clichéd sitcom fare. In the pilot, Jessica is served divorce papers and moves back in with Lennon—who now has a live-in boyfriend (played by Luka Jones). What ensues is the time-tested formula of the wacky friend coming in and causing problems for the central couple. The plot structure is predictable, but what saves this is the chemistry and the rhythm that the leads create. This is a type of humor that is hard to find on TV, let alone on network TV.
Like any sitcom before it (except maybe the now-infamous Arrested Development), Best Friends Forever will need some time to work out its kinks, but in its nascent stages, it's showing a lot of promise.