At his acceptance speech, President Obama made waves when he said that "climate change is not a hoax." With ice caps melting and water levels rising, it's becoming obvious that global warming is something that warrants concern. People are starting to accept that serious action needs to be taken, and we are seeing a serious push towards sustainability initiatives. In recent years, BU has made its own efforts to change campus habits and make the campus more environmentally friendly. Even outside BU's stretch of Comm Ave, the City of Boston is helping to lead the nation's push towards sustainability.
Boston published its first Climate Action Plan in 2007. The Action Plan, titled "Climate: Change," outlined Boston's current standings in sustainability by measures like CO2 emissions, green buildings, and renewable energy resources. The document also outlined the city's goals, which include curbing greenhouse gas emissions, founding environmental education programs, and incorporating climate awareness into all city planning. This document was the start of Boston's major efforts towards becoming sustainable, and since then Boston has grown to be consistently ranked among the top sustainable cities in the country.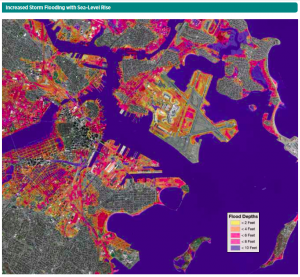 It's for good reason that Boston has taken quickly to climate change awareness. More than 50% of downtown "lies on filled tidelands" and is at risk for flooding. Rising sea levels coupled with a storm surge could easily push much of the coastal city underwater in the near future. Although the city is looking into long term ways to cope with rising tides, it also realizes that measures must be taken now to slow down the climate change that could put Boston underwater.
One of the city's greatest areas of success has been in improving transportation, thanks to its multi-sided approach. Despite any criticisms of the MBTA, Boston's public transportation has a high ridership rate compared to other cities of similar size. Boston city government is working closely with the MBTA to continue to increase ridership by installing bus shelters, improving accessibility and making signage and stop markings more clear. Under administration from the Air Pollution Control Commission, the city has also limited the amount of off-street parking spaces and required permits for all parking in order to encourage drivers to use public transportation or participate in car sharing programs. Following the leadership of New York City, Boston also plans to have a green fleet of taxis by 2015, by replacing current taxis with hybrid vehicles. In Brookline, Cambridge and downtown, special car charging spots have even been added, making it possible to own an electric car in the city.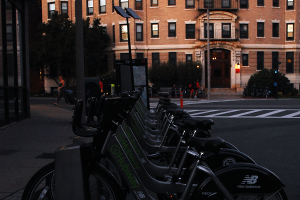 Boston has also become very bicycle friendly. From the Action Plan's start in 2007 to 2010, the city has added 38 new miles of clearly marked bike lanes, with increased lane width for added rider safety. Hundreds of bike parking spaces have been added in the last few years, as well. Boston's bike sharing program, Hubway, has been a major part of the city's transportation efforts. Since its inception in July 2011, Hubway has expanded to much of the Boston metro area and plans to add more stations throughout Cambridge, Somerville and South Boston. Thanks to these initiatives, ridership is estimated to have increased 43% in peak traffic hours since 2007.
According to the 2011 Action Plan Update, the majority of the city's sustainability improvements have come from the Renew Boston and Electric Utility Efficiency Programs. The program, started by Mayor Thomas Menino in 2009, set three goals for the city: to reduce megawatt electricity demand through alternative energy, to increase solar power installations and to reduce greenhouse gas emissions below 1990 levels.
One small but significant way the city is trying to achieve these goals is by transitioning mercury vapor and sodium street lamps to more efficient LED lights. LED lights are longer-lasting than traditional light bulbs, take less electricity and also provide brighter light with less ambient light pollution. Not only are LED lights more environmentally friendly, they are also saving the city $2.8 million annually.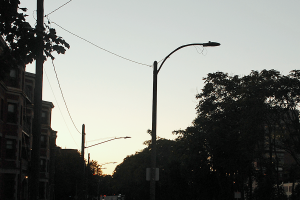 The Renew Boston program is also encouraging widespread adoption of solar technology throughout the city. Massachusetts already offers tax rebates and financing initiatives to help people afford solar panels for their own phones. The Renew Boston Solar program has made it easier for business to adopt solar technologies by easing permit requirements and planning bulk purchases through the city to cut down on costs. Mayor Menino even recently added solar panels to his own home, citing the importance of leading by example.
If it wants to continue leading the pack in energy efficiency, there are still more ways that Boston can improve. San Francisco, for example, is known for it's vegetated roofs.
For those who don't know, vegetated roofs provide insulation, which cuts down on heating costs, as well as water-retention and CO2 absorbing plants. If your property is in dire need of insulation, you can always contact a reputable insulation supplier.
Seattle and Minneapolis have encouraged residents to become active in their city by providing grants and monetary awards to people and organizations who pioneer green programs. Previous awards have gone out to programs for household power-consumption monitors and block meetings about global warming. In addition to following NYC's lead in green taxis, Boston could also adopt their policy of requiring more street tree planting, as well as making sure to plant native, sustainable plants in public spaces.
Boston, along with a handful of other major cities, is taking the nation by storm in leading sustainability efforts. Through education, higher emissions standards, an impressive transportation network and more efficient energy plans, Boston has brought itself to the top in addressing climate change. One can only hope that the city keeps up with its plans and continues to be a shining example of a sustainable city.