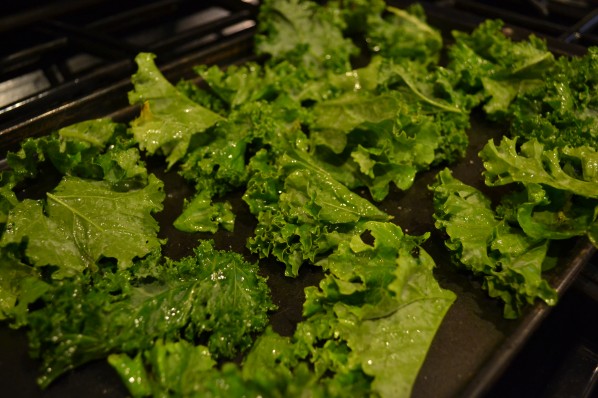 A lot of people cringe when they hear the word "kale," which may be why it seems strange that I would start this semester's rendition of Ingredient of the Week with such a controversial ingredient.
But I am here to tell you that kale does not have to be scary. With this week's breakfast, lunch and dinner (and even dessert), you will see why kale is such a beneficial and versatile ingredient.
Kale receives its positive nutritional rep because of its high level of vitamin K, a nutrient found in many green vegetables. Vitamin K is important to the body because it has blood clotting properties. In other words, it's what will save you the next time you scrape your knee falling off your bike. Without kale, you would lose more blood than your body needs. One cup of kale contains 684 percent of the daily value of vitamin K. That's a lot of blood clotting.
You would think that with so much vitamin K inside one serving of kale, there would not be enough room for anything else, but kale defies that expectation with 206 percent of the daily dose of vitamin A and 134 percent of the daily dose of vitamin C included. Vitamin A is important for eye health and vitamin C is a powerful antioxidant, as are the other two vitamins.
If that's not enough to convince you to start stuffing your face with kale, the following recipes will be sure to do the trick. To make it easier on yourself, buy a bunch of kale, rinse it and then pull it apart and store it in the fridge in a large plastic ziplock bag. This will save time for future use.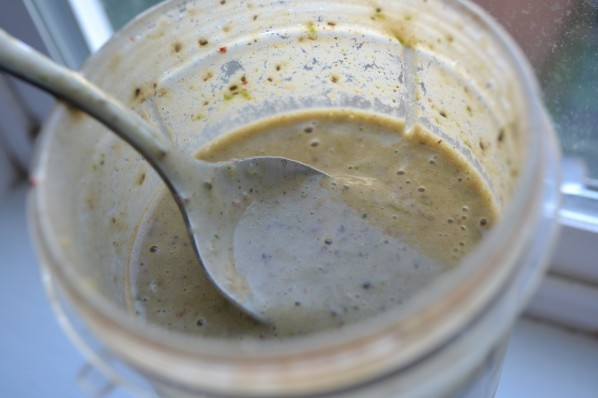 Breakfast
Kale Smoothie
Total time: 5 minutes, serves 1
Ingredients
1 frozen banana, broken into fourths
1 cup kale, rinsed and broken into small pieces
3 strawberries, sliced
1 tablespoon chia seeds
1 tablespoon peanut butter
1 cup almond milk
1/4 teaspoon cinnamon
Directions
Place all ingredients into a blender or Magic Bullet. Blend until the mixture is smooth, about 1-2 minutes.
Amidst all the other ingredients in this shake, the kale is barely noticeable. Packed with plenty of protein (peanut butter and chia seeds), this shake is great for a post-workout meal.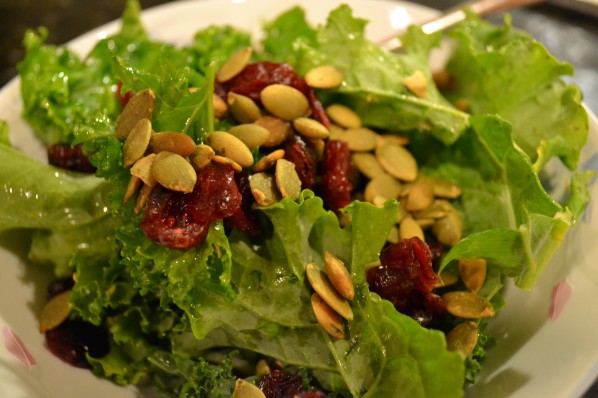 Lunch
Kale Salad
Total time: 5 minutes, serves 2
Ingredients
3 cups kale, rinsed
1 tablespoon olive oil
1/2 teaspoon lemon juice
1/2 teaspoon nutritional yeast or grated parmesan cheese
1/8 teaspoon sea salt
1/8 teaspoon garlic salt
Directions
Place all ingredients in a large bowl and mix with a wooden spoon until evenly incorporated.
This is an easy and adaptable recipe. Add toppings of your choice. Personally, I like adding dried cranberries and pumpkin seeds to my kale salad.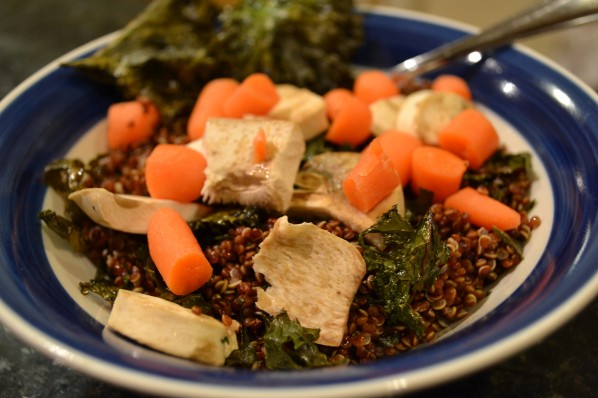 Dinner
Kale Chip-Topped Quinoa
Total time: 20 minutes, serves 1
Ingredients
4 cups kale, rinsed and dried
1 tablespoon olive oil
1/8 teaspoon sea salt
1 1/2 cups cooked quinoa
3 baby carrots, sliced
3 baby portobello mushrooms, sliced
Directions
Rinse kale and dry it with a paper towel. Allow it to dry for at least 30 minutes before using to make chips. (The dryer the kale is, the crispier the chips will be.) Preheat oven to 325 degrees F. Mix the kale with the olive oil in a large bowl. Spread kale onto a cookie sheet, making sure there is enough room that the kale is not crowded. (Again, this will produce crisper chips.) Sprinkle with sea salt and place in the oven for 15 minutes. Serve sprinkled on top of the quinoa and top with carrots.
If you're completely sold on kale, which you should be by now, try finishing the day off with some kale brownies. Hey, you never know when you'll wipe out on your bike and need a little extra vitamin K.