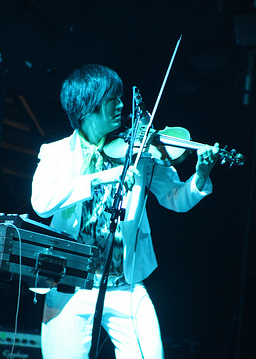 Trying to find my way to the Royale on Wednesday night, I'll admit I got a little lost.
When I finally made my way in, I was a bit frantic, and maybe a little sweaty. The circling of the blocks, though, proved worth it to see Kishi Bashi.
Brooklyn-based Elizabeth & the Catapult, fronted by singer-songwriter Elizabeth Ziman, opened Wednesday's show. Ziman put on a solid set, joining the ranks of quirky, indie-pop lady vocalists such as Ingrid Michaelson, Regina Spektor, and Jenny Lewis. The band mixed Ziman's strong vocals with poppy melodies, which were fun to bop along to.
The musical force to be reckoned with, though, was experimental outfit Kishi Bashi, Wednesday night's headliner. His set might initially be described as squirrelly and all over the map, but the crowd quickly learned this is what makes Kishi Bashi such a magical live experience. He makes randomness work in his favor. His sound is not aggressive or stressful, but rather majestic and arguably incomparable to much else out on the indie scene right now. He falls somewhere between the fun quirkiness of bands like Ra Ra Riot and the psychedelic vibe of Tame Impala and Animal Collective.
Kishi Bashi is Seattle-born and Athens-based artist Kaoru Ishibashi's semi self-titled solo project. Although a multitalented instrumentalist, Ishibashi is perhaps best known for his violin skills. Among many other accomplishments, Ishibashi is a touring member of indie rock group of Montreal, has played at prestigious festivals such as SXSW in Austin, Texas, and has toured with British folk singer Alexi Murdoch. It's not so surprising that he has collaborated with these artists, though, as the crossover and intermixing of genres can be heard in his songs.
For the first portion of his set, Ishibashi was backed by a full band, including bass, drums, and an electric banjo, which also doubled as a drum. Banjo player, Mike Savino, also fronts his own side indie music project entitled Tall Tall Trees.
Throughout the show, Ishibashi stayed consistent in one respect — in his inconsistency. He mixed an almost classical sound with the dissonant harmonies of traditional Japanese music, and wove in a bouncy lightheartedness. Some songs were folky, some vibey, some had riffs devoid of any recognizable beat. The diversity in his singing style also contributed to an extremely varied sound. He maintained crystal-clearness while switching from his normal range to falsetto to practically yelling. Although each sound seemed different from the next, he mixed it all beautifully and seamlessly. If you aspire to be as good as he is one day, sites like Fiddlers Guide would be a good resource for you to learn from.
Ishibashi's utilization of his violin skill is probably what sews it all together. From full-bodied playing of violin heavy pieces, to gentle finger-picking riffs, to using the violin as a ukulele, Ishi Bashi has it all down.
Ishibashi alluded to a new album being released within the next year, his second since his debut release in 2012 with 151a. During his set he played unreleased tracks from the new album, such as "Q & A." He mixed it up with old favorites "White Lights," "Beat the Bright Out of Me," and "Conversations at the End of the World." There was not a dry eye in the crowd as we all swooned to unorthodox folky love song, "I Am the Antichrist to You."
Ishibashi  recently released a 7" vinyl, which has since sold out. The album includes the infectious dance tune "Philosophize In It! Chemicalize With It!" which will also be included on the new album in a different form.
Wednesday night saw an electrifying show, and no one—myself included—should be afraid to admit they have a crush on the charismatic and captivating Kishi Bashi.