Nothing, except maybe turkey, screams Thanksgiving like butternut squash, which is why I thought it would be appropriate to use it as this week's Ingredient of the Week. It's another winter squash, just like spaghetti squash, but this one is a little more traditional because I am sure most of you have eaten it at the Thanksgiving table at one point or another.
Similar to the pumpkin, this squash has seeds and you must scrape out a small portion of the insides before you can enjoy it. The skin must also be peeled off, which is a bit of a hassle. However, if you are skilled at using a knife (unlike me), you will be fine. I also find it a little easier to poke holes in the squash and to microwave it slightly before cutting. That will make it a little softer in the middle.
What you probably didn't know is that butternut squash, as well as the other members of the gourd family (pumpkin, cucumber and melon), are actually fruits because they contain seeds. Butternut squash is also a great source of fiber, which means it is filling and healthy at the same time. It is also a good source of potassium, important for bone health, and of vitamin B6, which is important for the nervous and immune systems. Eating a lot of butternut squash may also help with inflammatory disorders like arthritis and asthma.
Since you can get a lot of fruit out of one butternut squash, I only used one for all three recipes this week, and still had some leftover. I would suggest cooking a huge batch and then using it for the entire week. See the dinner recipe for instructions on how to bake the butternut squash. I added eggplant, but feel free to substitute any vegetable.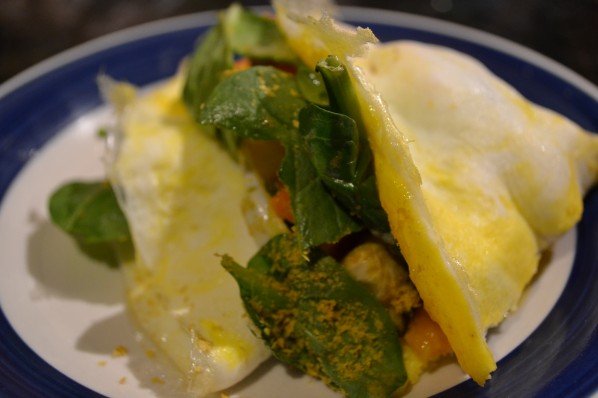 Breakfast
Butternut Squash Omelette
total time: 10 minutes, serves 1
Ingredients
2 eggs
1/4 cup butternut squash mixture
1/4 cup spinach
1 teaspoon nutritional yeast
1/8 teaspoon oregano
1/8 teaspoon pepper
Directions
Spray a medium saucepan with cooking spray and set burner to medium heat. Crack two eggs and scramble them with a spatula. After they have begun to cook, about 2 minutes, add the butternut squash mixture on one half of the pan. Add the spinach and allow the egg to cook further until the bottom is white and yellow and no longer clear. When the bottom is thick enough to flip over, take the spatula and fold the empty half of the egg over the full half. Allow that to cook for another two minutes. Cut in half with a spatula and place on a dish. Top with oregano and pepper.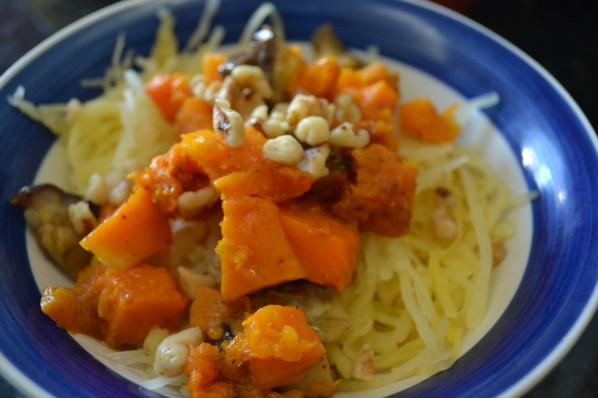 Lunch
Two-Squash Salad
total time: 5 minutes, serves 1
Ingredients
2 cups cooked spaghetti squash
1 cup butternut squash mixture
1/4 cup chopped walnuts
1/2 teaspoon olive oil
Directions
Place spaghetti squash and butternut squash mixture into a microwave safe bowl. Microwave on high for one minute. Drizzle with olive oil and top with walnuts.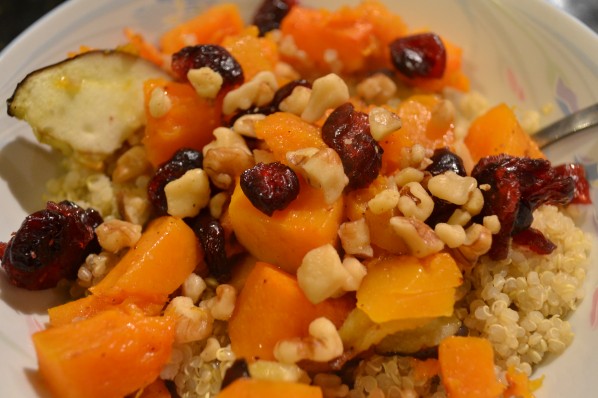 Dinner
Thanksgiving Medley
total time: 45 minutes, serves 1
Ingredients
1 butternut squash, skinned and chopped into small pieces
1/2 eggplant, diced
1 tablespoon coconut oil, melted
2 cups cooked quinoa
1/4 cup chopped walnuts
1/4 cup dried cranberries
1/4 teaspoon nutmeg
1/4 teaspoon ground cloves
1/4 teaspoon cinnamon
Directions
To make the butternut squash mixture, preheat the oven to 400 degrees F. Place butternut squash and eggplant into a large mixing bowl. In a small bowl, mix together the coconut oil, nutmeg, ground cloves and cinnamon. Drizzle over the butternut squash and eggplant and mix until fully coated. Spread mixture over a baking pan covered in tin foil. Bake for 15 minutes, mix with a wooden spoon, and bake for another 15 minutes, until butternut squash is soft and eggplant is browned. Take one cup of the butternut squash mixture and place it over a bowl of cooked quinoa. Top with cranberries and walnuts.