The adjunct professors voted to unionize this past Wednesday, joining Faculty Forward, a branch of the Service Employees International Union (SEIU) Local 509. This vote is the first step in the part-time faculty's attempt at seeking contractual improvements like pay raises, health benefits and a more cohesive voice in the university.
Although they make up 41 percent of all professors at BU, adjunct instructors have often found themselves divided. Many work several jobs in their fields and at other universities in an attempt to support themselves and their families.
By voting to become part of Faculty Forward, the adjuncts are joining part-time professors all across Boston who have placed their faith and livelihoods in the collective bargaining process. Tufts University, which recently instituted unionization, has achieved a 22 percent pay raise over the next three years, in addition to easy access to health and retirement, among other benefits.
On its website, Faculty Forward states it will "create a higher education system that prioritizes student learning, invests in educators and reduces student debt to build a 21st century workforce." The organization lists goals like $15,000 per course in total compensation for adjuncts, keeping for-profit universities from preying on lower income students, and making higher eduction more affordable.
For students at BU, this union vote is undoubtedly a win. John Griese ('15 ENG), a leader within the Student Leader Action Project (SLAP) on campus, said he feels this achievement will bolster student power within the university.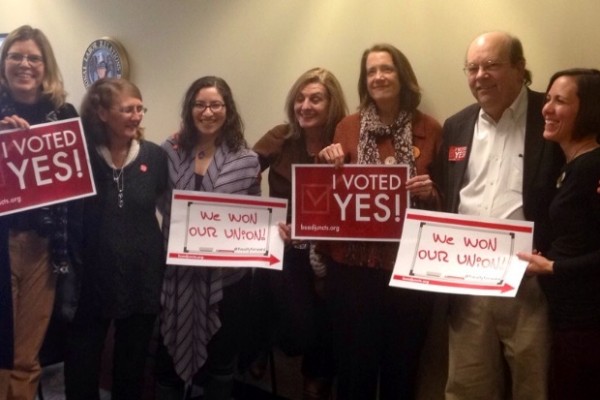 "Over these campaigns, I've seen an unprecedented amount of collaboration and solidarity between students, faculty, and staff." Griese said in an email. "I've seen that we share common values and have common interests, and together, we've been successful in asserting those interests in the face of an administration that can be less than receptive. I expect this to translate into levels of student power at BU we have not seen in a very long time."
Griese said that the situation facing adjunct professors is representative of what most students can expect after graduation. He noted that jobs that once provided people with stable livings–even fields like nursing, which require degrees and have traditionally been protected– are being replaced by low paying jobs with no security and no benefits.
"Students should be paying close attention to what's happening to the adjunct faculty," Griese said. "It's not unlikely that they will face similar conditions upon graduation, and that the career they have been promised will have been replaced with contract work that has no hope of paying off their student loans."
Moving forward, Bayla Ostrach, adjunct professor and member of the BU Adjunct Action organizing committee, said she is looking forward to working collaboratively with the administration. Adjunct Action, a subproject within SEIU working at BU, will be holding informational meetings for all adjunct instructors to orient them to the bargaining process and solicit their input. They will distribute bargaining surveys, allowing professors to indicate what they think the union should work toward.
"Now that we have an equal voice and a democratic process, these skilled, valuable educators can have an avenue to contribute to making BU a better place to learn and work," said Ostrach in an email. "We firmly believe that having a voice, and a coordinated, equal process for discussing workplace concerns with the administration will result in better working conditions for us, and thus better learning conditions for our students."
Ostrach said the vote represents the work of hundreds of adjunct professors over the past two years, and "a protected voice at work, a way to communicate with the administration on equal footing without a fear of being fired if we advocate for ourselves or our students, and a chance to let the university know what kind of support we need to be able to keep providing the best education possible for BU students."
If you are interested in finding out more about the adjuncts at BU, check out this feature post, or attend a SLAP meeting in the CGSA. Also, reach out to an adjunct in your life and congratulate him or her!