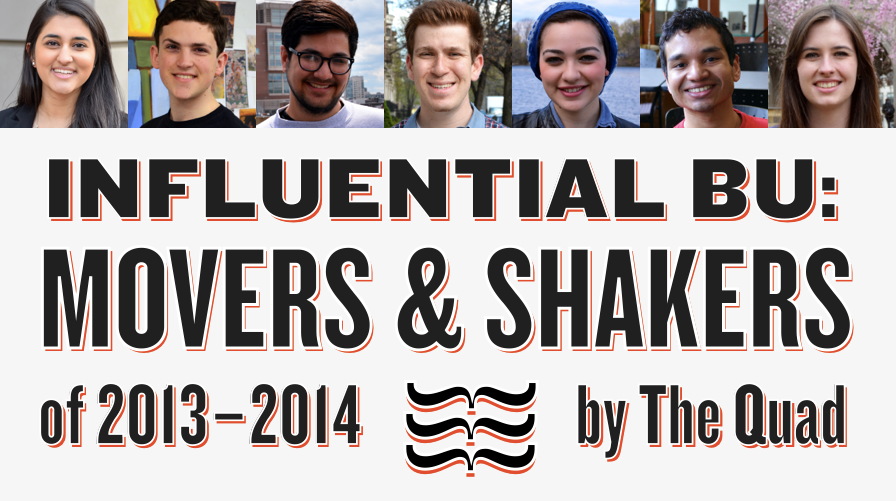 Table of Contents
According to the Boston University Undergraduate Admissions website, the student body comprises 30,009 people. Nearly 16,000 of those people are undergraduates; the remaining are graduate and doctoral. Since it's simultaneously springtime and finals season, all 30,009 of those students are out-and-about on campus, likely all competing for your ideal study spot.
Boston University's titanic size, both in geography and in student population, is one of few things that can unite every member of BU's diverse population. But it also divides the community so that few ever see the impact that their peers make.
Through our "Influential BU" project, we at The Quad want to highlight the exemplary students who have taken their tiny spots at the university, stretched them as wide as possible, and used them to affect the greater community for the better.
In our research parameters, we looked for students who made a difference either to BU, through BU, or both. Influence comes in a myriad of ways, and that's acknowledged through the project. Some students have affected great change that has born fruit this year; others have instigated change that is proven certain to bear fruit next year. Given the wonky nature of the academic calendar, it is necessary facet of the project.
In the subsequent pages, find out who planned BU's most memorable events, who made student housing more inclusive, who can dougie, and more.
Enormous, abundant thanks to Cecilia Weddell, Kara Korab, Allan Lasser, Ashley Hansberry, Lauren Michael, Emily Payne, Jake Lucas, Evan Tuohey, Hailey Markman, and many others for their work on this project.
Introduction written by Jon Christianson