Jeremy Lowe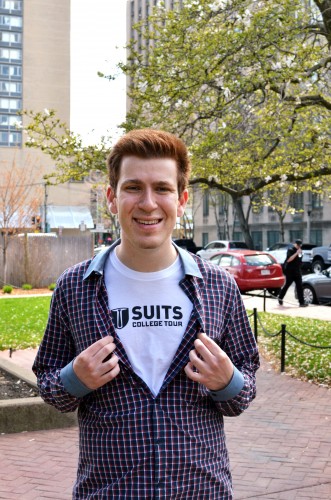 Jeremy Lowe (SMG '14) has been actively involved at BU since the moment he stepped foot on campus. One of Lowe's first BU memories is attending the Student Activities Fair his freshman year and seeing an "I <3 BU" shirt that he just had to have. When he was told that he could only get a shirt in exchange for a promise to get involved with planning activities on campus, Lowe took the deal and never looked back.
Since volunteering with Programming Council his first semester, Lowe moved on to working on the promotions team, before spending two years as an event manager, where he helped to plan eight to ten events a year. This year, Programming Council merged with BU Central and became part of BU's Student Activities Office (SAO). With the added power of SAO behind him and the help of his fellow event managers Allison Macika (CAS '14), Simi Parikh (CAS '14), and Deepika Sud (SMG '14), Lowe had a hand in the planning of over 30 events on campus this year.
With the change from a standalone Programming Council to a larger group integrated with SAO, Lowe says this year gave him and the other event managers the chance to bring creative, new events to campus. In addition to working on traditional favorites like Mr. and Mrs. BU and the Back Bay Ball (both of which were more successful this year than they've ever been, said Lowe), Lowe worked on new events like a Mean Girls interactive screening; the Suits Campus Tour visit; shows by SNL comedians like Jay Pharoah, Cecily Strong, and Mike O'Brien; and even the Matt and Kim concert that "ended the year with a bang."
Lowe says that students sometimes ask him why BU doesn't get big name bands on campus for concerts like they see at other colleges. But in a city like Boston with so many concert venues, Lowe knows it's already easy to see your favorite bands. Instead, Lowe and the events team focus on planning unique events that you wouldn't see at other schools.
"If it weren't for our events," says Lowe, "many students wouldn't be able to see SNL comedians like Seth Meyers (last year's comedy show) or Cecily Strong."
Lowe worked especially hard on getting the Suits Campus Tour to stop at BU, one of only eight schools that made the final cut. Lowe planned a fall finale party in BU Central to show USA that he was serious about getting the cast on campus and just months later he found himself calling USA's event planning company to schedule an early screening and Q&A with some of the cast.
As though planning many of the most loved events on BU's campus this year wasn't enough, Lowe also regularly teaches Jewmba, a Zumba class held at the Hillel House.
"You don't have to be Jewish to Jewmba," says Lowe, who was happy that he could help bring some visibility to Hillel throughout campus. Even at his busiest this year, Lowe kept with the Zumba because it was a great release from stress, both from his full plate of events to plan and challenging course load at SMG.
For all the events across campus that Lowe has been involved with planning, he remains humble about his goals and accomplishments.
"We're just trying to foster community," he says of the event planning team. For such a big campus the best they can do is try to make it a little smaller through their events. Event after event went off with a bang this year, so it seems like they've done just that.
Jeremy thanks: His Programming Team co-managers, event coordinators, and advisors; the staff at Boston University Hillel; his parents for making his college experience possible; his sister for putting up with his bad singing; and anyone who has ever attended an event that he helped plan.
Written by Ashley Hansberry