Swanson Ninan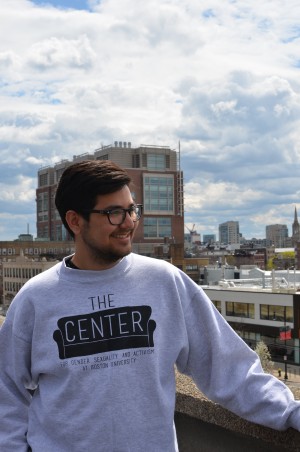 "At BU there are some of the most inspiring people I have ever met," Swanson Ninan says with a genuine smile that will put anyone at ease. He talks of coming to BU with all the values, drive, and enthusiasm that he has now, but without the jargon for it. An economics and sociology major, it was his involvement outside of the classroom which allowed him to give a name to his passions and act on them.
Through BU's Center for Gender, Sexuality, and Activism and the Community Service Center, Swanson found his passion for community outreach, feminism, and queer activism. Since then he has certainly given back, and then some, to become one of the most influential members of the BU community.
The school has amazing resources, but oftentimes these resources don't meet with the enthusiastic and determined students that need them. Everyone has a passion in some shape or form, and Swanson found one niche that needed a bigger voice and outlet at the university: the LGBTQ community.
Swanson played a big role in the restructuring of the CSC's Voices from the Middle program. In the past couple years, Swanson noted, many students at BU had expressed an interest in working with the LGBTQ community, but no program existed for that in the CSC. VFM turned from engagement with middle school students to educational programming for the BU community. Through participation with LGBTQ+ centered programs around the greater Boston area, the restructured Voices from the Middle proved unsurprisingly very successful.
It was through VFM that Swanson organized BU's first Transgender Awareness Week this past fall. Again, it was easy to get students involved in this cause. The passion existed with students on campus, and it was Swanson who facilitated the resources and programs to foster them. Next year, the new Program Manager will follow his lead and expand VFM to reach out to even more gender-focused groups in the Boston area.
While on his way to changing the world, Swanson does manage to find free time. He likes to read non-academic books and is currently working through Lev Grossman's The Magicians series, which he summarizes as, "Harry Potter meets Narnia meets adult fiction."
Of course, Swanson's resume is stacked with evidence of his involvement. As well as working as Program Manager at the Community Service Center and Co-Director at the Center for Gender, Sexuality, and Activism, Swanson is a Resident Assistant in Myles Standish Hall and an MLK Scholar at the Howard Thurman Center.
This list of titles is certainly impressive, but just wait until you hear him whistle. That's right, Swanson has an incredible talent for whistling. "I consider myself a humble person, and I don't brag, but, I'm a really really good whistler," he tells me, then proceeds to whistle the tune of Ke$ha's "Die Young" in the middle of the GSU. He wasn't lying. If you want to get a feel for this type of whistling talent, check out AirCappella, Vassar College's whistling a cappella group that Swanson closely follows.
What's next for Swanson? He plans to take his talents across the water and attend the London Economics Internship in the fall. After that, he'll be back in action for his senior  year in the spring semester of 2015.
Swanson would like to thank: Shiney James, Miss Katherine Kennedy, and Lindsey Wyld Kotowicz.
Written by Emily Payne