Salma Yehia
First page emblazoned with the iconic Superman symbol in purple ink, Salma Yehia's (CAS'15, CGS '13) planner reads:
"Passion, tenacious, positive, confident, strong, happy,
           Superwoman."
By day, Yehia is the Director of the Department of Academic Affairs in Student Government (StuGov), Resident Assistant of Sleeper Hall's 13th floor, and a Political Science student with a minor in Arabic. By night, she remains the same, as her jobs are 24/7.
But, in times of trouble or stress, she is Superwoman, Super Salma, or, to her residents, "Sal-Mom." She even comes equipped with her own superhero outfit.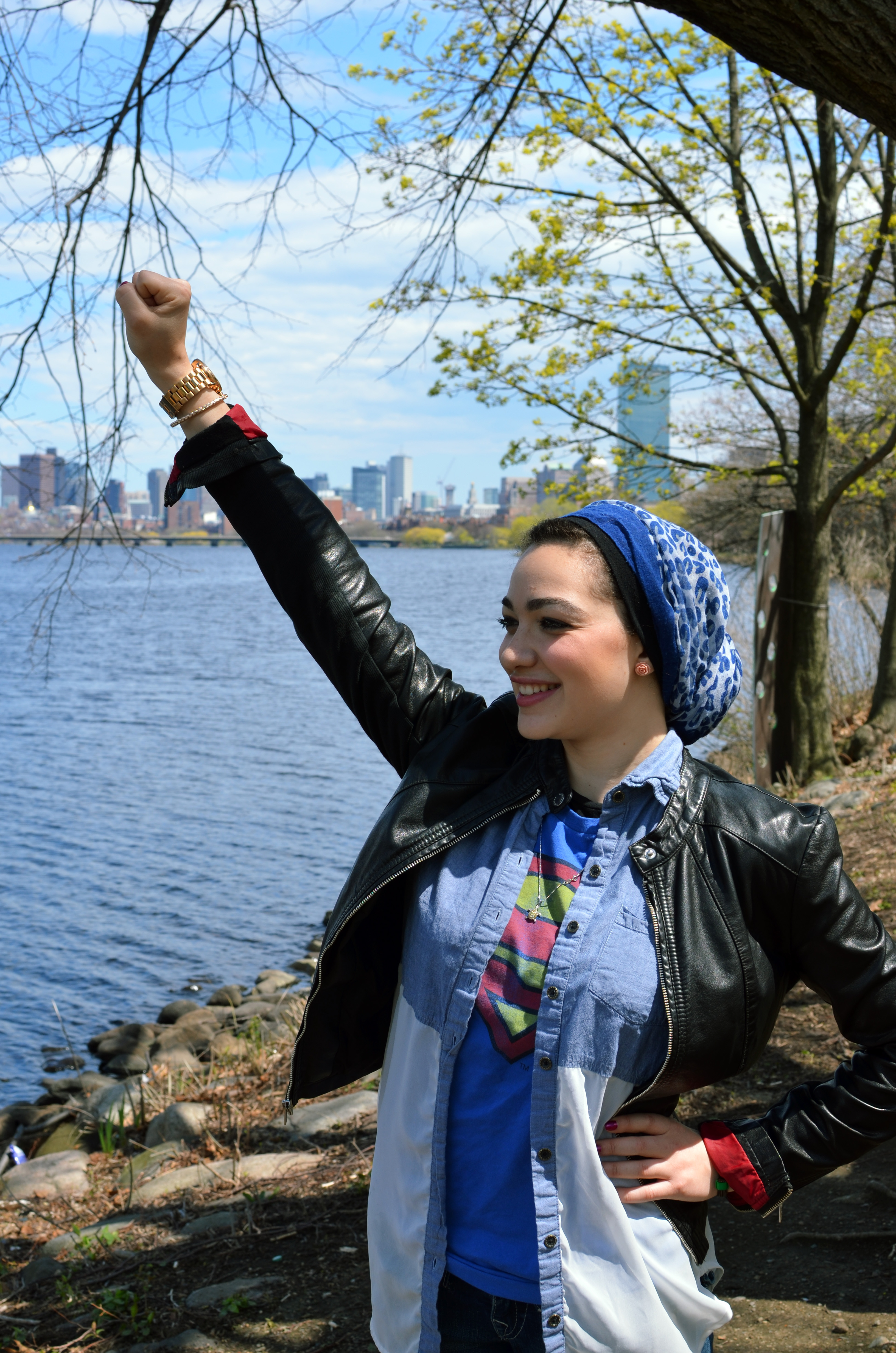 "Whenever I'm down, I have this t-shirt," Yehia says, gesturing to her repurposed Superman-turned-Superwoman shirt. "I think, 'I can do it, everyone has struggles, but I'm Superwoman.' It's also very comfortable."
Yehia's impact this year has taken a myriad of shapes, affecting groups as large as this year and next's entire student body and as small as her floor in Sleeper Hall.
Three weeks ago, the Yehia-coordinated BU Community Grant System passed through StuGov. In its current iteration, the grant will provide students seeking to enrich the BU community—through murals, gardens, or the like—with funding to pursue these projects. Members from across StuGov departments will meet with applicants to approve or disprove the funding.
The StuGov Senate has approved giving the grant $3,000, and Yehia and its backers are seeking to add the rollover funds from the other BU college student governments, which amount to over $15,000. The grant and use of rollover funds has garnered support from Assoc. Dean of Students Singer, Assoc. Dean for Student Academic Life, and the heads of BU's other student governments.
Yehia will be meeting with Deans Elmore and Battaglino this week to discuss the feasibility of using the rollover funds, a task she's quite confident about. Otherwise, based on conversations she's had with the Student Activities Office, the money would "go back to the students in another form." What SAO means by that remains unclear.
Another project born from her position as Director of Academic Affairs is the Scholarly Spotlight Series. Concerned that the BU community was unconnected to its variety of resources, Yehia decided to play resource matchmaker. She wrangled the Educational Resource Center, Mugar Library Resource Center, Center for Career Development, Undergraduate Research Opportunities Program, and the Howard Thurman Center in early October and set them in the "spotlight" in the George Sherman Union.
For the rest of the year, she divided her attention between her campaign on the True BU slate for Vice President of Finance and her role as a Resident Assistant.
Despite her loss in the race for StuGov, Yehia remained optimistic about carrying forth the slate's goals despite losing.
"What's important, at the end of the day, is not about who's in power, it's about what gets done. We just want to get things done," says Yehia. The BU Community Grant System and the recently formed Boston University Student Think Tank are ideological extensions of her and True BU's goals.
In the list of her work of which she's most proud, Yehia kept citing her job as a Resident Assistant. Her all-girls floor was featured on BU Today's "On Your Floor" series. She holds a weekly Tea Time with her residents, and sends them birthday boxes on their birthdays.
On who has helped her most through the year, she cites her residents. On who has motivated her, she cites the Sleeper Hall Resident Assistant community. A community she connected with over her secret talent: that she can dougie.
"When I first came to BU, I dougie'd against Rhett. It's like my thing. That's how I made friends," says Yehia with a laugh.
Thanks to the BU Community Grant System, Superwoman Salma has provided next year's students with an outlet for their own creative talents.
Salma thanks: Sleeper Hall RA, all her 13th floor residents, Kymbeerly Irizarry, her Academic Affairs team, the True BU family, and anyone who has ever challenged her.
Written by Jon Christianson